Support SouthFront
Originally appeared at ZeroHedge
New satellite images widely circulating in international press purport to reveal that Iran has begun construction on an underground nuclear facility at Fordo in Qom province, which lies in the north of the country.
The site has been a suspected place of nuclear development since at least 2009 when it was first uncovered by the West, however, since the US exit from the 2015 nuclear deal which Trump pulled out of in May 2018, it's believed the Iranians are pursuing underground facilities at the site deep within a protective mountain.
#Fordow Uranium Enrichment Plan #IRAN – New construction activity located in the support/R&D area, 350 meters East of the actual complex. Leveling started in September 2020. Foundation trenches were dug for a new 50x70m structure which purpose is currently unknown. #JCPOA #IMINT pic.twitter.com/k42vTZrJni

— Observer IL (@Obs_IL) December 16, 2020
Iran has not publicly disclosed any new construction at the site and has always maintained that its nuclear program, long since subject to rigorous United Nations IAEA inspections, is only for peaceful domestic energy purposes.
Iran has lately threatened to suspend the IAEA inspections, with hardliners in parliament recently giving legal cover to President Hassan Rouhani for such a move, which he hasn't acted on yet. However, Israel would likely be provoked enough to launch some type of preemptive action on Iran's declared and undeclared nuclear development sites if inspectors were booted from the country, and monitoring cameras switched off.
It also remains that the public satellite imaging analysis institutes advancing the claims of a new underground nuclear facility can't ultimately be sure that's what's happening there.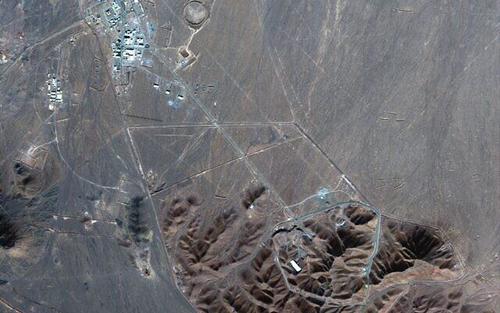 The Associated Press details the satellite images as follows:
Construction on the Fordo site began in late September. Satellite images obtained from Maxar Technologies by the AP show the construction taking place at a northwest corner of the site, near the holy Shiite city of Qom some 90 kilometers (55 miles) southwest of Tehran.

A December 11 satellite photo shows what appears to be a dug foundation for a building with dozens of pillars. Such pillars can be used in construction to support buildings in earthquake zones.
The site is raising suspicions given there's construction happening deep inside the mountain, believed for the purpose of protecting a sensitive part of the facility from airstrikes.
Satellite images show construction at Iran's nuclear facility at Fordo https://t.co/QHPwgjtnWG

— Los Angeles Times (@latimes) December 18, 2020
Defense analysts in the West are now carefully monitoring development and changes at the site, also at a sensitive moment the outgoing Trump administration has vowed to keep up it's 'maximum pressure'.
This has reportedly included Secretary of State Mike Pompeo being issued broad authority to pursue covert action to degrade the Islamic Republic's capabilities short of sparking war, according to a Daily Beast report from early this month.
Meanwhile, on Friday Israeli Defense Minister Benny Gantz stressed that Israeli army forces "are ready to confront any possibility of the Iranian threat in the region," in fresh comments made to Chairman of the Joint Chiefs of Staff General Mark Milley. It's an alarming sign that even with just weeks to go in the Trump presidency, a major conflict with Iran is a distinct possibility, also as hawks fear Biden will restore the JCPOA nuclear deal the moment he takes office.
MORE ON THE TOPIC:
Support SouthFront